How to register on the XSEED SuperTeacher App?
The video and step-by-step instructions will guide you how to register on the XSEED SuperTeacher App.
Verify your mobile number by entering it on the SuperTeacher app and hitting the "Send OTP" button
You will receive a one-time-password (OTP) via SMS. Enter the OTP to verify your mobile number
Next, enter all the required information to register on the App.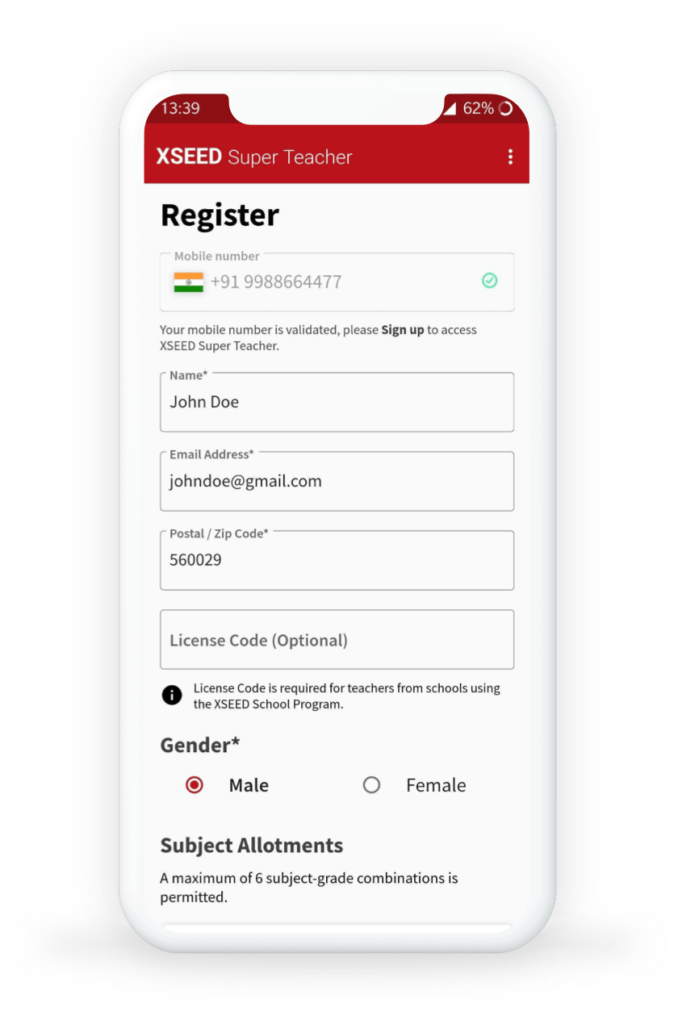 You will have to enter a unique license code during the signup process.
If you are a teacher from an XSEED partner school, you are eligible for a free license code because your school has purchased XSEED SuperTeacher. Please get in touch with your school management to get your free license code now.
If you are a parent, an independent teacher, or a teacher from any other school, you can leave the license code blank. The app will be available for a 7-day trial period, after which you will need to purchase a license code to continue to use the app. 

Please note the option of direct independent purchase is not yet available outside of XSEED partner schools.
Choose the subjects and grades you teach to get access to the respective lesson plans.
If you wish to change this later, you will be able to do so.
Please note: You can choose only a maximum of 6 subject-grades at one time.
Click on the "Submit" button to complete the registration